A Fence add-on option improve and upgrade the support, durability, longevity, looks of your fence, as well as how to better accommodate and protect your cherished pets.
– We use 2×6 pressure-treated boards: 5,5 inches wide, 2 inches in a ground, nailed to posts. Then a dog would see no light there and stop digging. 
***If the dog is digging 2ft deep or more, this will not help and there is nothing we can do in that case.***
Our customers are very happy with this add-on option.
Starting Price - additional $7 per linear foot
– Provides additional support for the Gate posts, which protects from sag.
– Increases the appeal of the gate.
Starting Price - $350/gate
Stainless Steel Turnbuckle
– Turnbuckle allows for a gate adjustment right on the spot if sagging ever occurs.
– Over time the cedar gate absorbs water, becomes heavy, pulls on the post and jams the gate.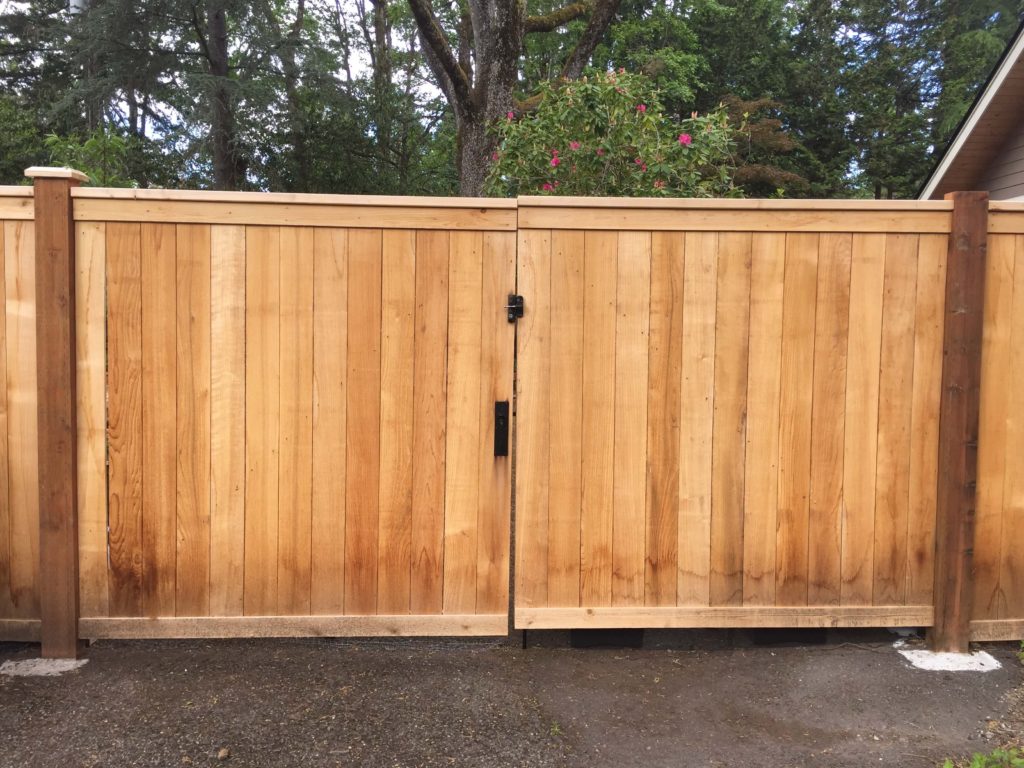 Starting Price - $150/gate
– Absolute privacy as the boards cover all the gaps
– Sturdier fence
***Option available only for cedar fences***
Starting Price - Additional 10/LF
-Our Post On Pipe Fence add-on option allows you to enjoy the natural beauty and texture of wood without fear of post deterioration from insects, rot or the passage of time.
-With post on pipe – 10 year warranty for the cedar post on pipe and 3 year warranty for pressure treated post on pipe vs 1 year warranty for standard pressure treated post. With post on pipe the wooden post is above ground 2-3 inches so it won't rot. With post on pipe posts you are investing for the future and peace of mind.
-Each cedar post is smooth and cut to a 3 1/2 x 3 1/2 inch dimension. Then it is mounted on a JS/8 OD Schedule 40 pipe. the same pipe that is used underground to carry water. Finally. the cedar post and pipe are connected using a heavy-duty carriage bolt. This provides excellent stability and yet allows for easy replacement in the event of accidental damage.
Seattle

White center

West Seattle

Magnolia 

Ballard 

Greenwood 

Bitter Lake

Lake City 

Beacon Hill

Columbia City 

South Seattle
Renton
Kent
Tacoma
Puyallup
Bonney Lake
Federal Way
Burien
Normandy Park
Tukwila
SeaTac
Des Moines